Intraoperative Neurophysiologic Monitoring for Cranial Motor Nerves
Intraoperative Neuromonitoring AVALANCHE« SI 2
Neuromonitoring solutions AVALANCHE® SI 2 for intraoperative neuromonitoring of cranial motor nerves in parotid surgery
Compact and efficient 4 EMG channel monitor for the continuous monitoring of facial nerve in parotid surgery.
Register and download the brochure
Request technical information
Avalanche® SI 2 is a compact and portable 4 EMG channel monitor. It has a large 15" touchscreen color display, which allows direct entry of patient data, programming parameters and documentation. There also are audible and/or visual alarms for example in the case of loose ends.
The system has a database for archiving which can contain several thousands of patients, and available at any time. The case of interest can be easily retrieved, viewed and exported as a PDF report via USB stick.
Avalanche® SI 2 with software for muscular action potential (EMG) displays the signals with different colors to differentiate the different monitoring channels and analyzes them automatically, showing relative latency and amplitude. The EMG channels can be activated or excluded, depending on the needs of the surgeon and can be saved up to 5 customizable programs according to the configurations most used by the operators. The system also automatically stores the response signals to electrical stimulation by probe.
The pacing current of our neuromonitoring solutions is variable with a range from 0.1 mA to 10 mA and it is limited to this value to prevent damage to the nerve.
It also has an "Auto-Mute" function for feedback of sounds, so that the sound is active only during electrical stimulation. The system can 'be easily upgraded at any time, even remotely.
EMG Software: for monitoring and identification of motor nerves through the measurement of the respective group of muscles response after electrical, mechanical or thermal stimulation. 4 EMG channels are ideal for the monitoring of the facial nerve in the parotid surgery.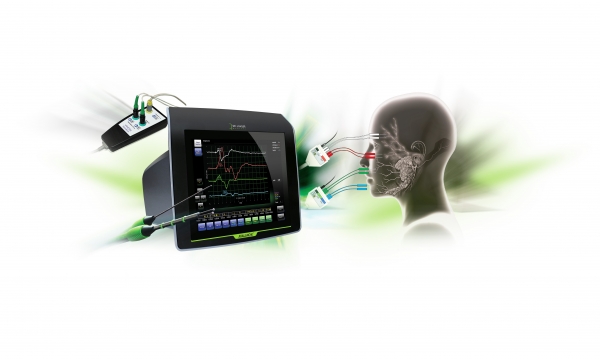 ---
---
Accessories for our neuromonitoring solutions
The use of reliable equipment is crucial when working in the medical field. You lose valuable time if you need to research during surgery causes of malfunctions caused by defective accessories, in addition, it is easy to quickly lose confidence in the system. Our goal is never making it happen. For this reason we offer a full range of accessories specifically designed and high quality for the various applications. All available accessories are listed in our IONM accessories catalog.
Disposable Accessories for our neuromonitoring solutions:
Disposable stimulation probes

Coupled and uncoupled disposable needle electrodes

Button electrodes

---
Reusable Accessories for our neuromonitoring solutions:
Headbox
Reusable stimulation probes
Reusable needle electrodes
Connecting cables
Printer
Footswitch
---
---
---
---
---
Producer Dr. Langer Medical
---
To download the data sheet, you need to access the restricted area:
---