IC-FlowTM system consists of a Medical camera for fluorescence lymph-angiography that by using a LED light source in the near infrared (NIR) and a high sensitivity CCD sensor, enables the quantification of the surface tissue perfusion and the display of local course of lymphatic system.
The system is based on the production and observation of fluorescence of a fluorescent dye: Diagnostic Green VERDYE dye (indocyanine green).
---
---
Indocyanine Green (ICG):
The ICG is commonly used as a tracer substance in diagnostics:
Cardiac diagnostics, circulatory and microcirculatory
Diagnositics of liver function
Diagnostics in ophthalmic angiography
Indocyanine green (ICG) is a dye, fluorescent to light NIR, stable in the blood, which is not metabolized and which binds to macro-plasma molecules (albumin, lipoprotein α1).
It is eliminated very quickly by the liver (95% is eliminated from the bloodstream in 15 minutes) via the bile.
Operating principle:
ICG can be injected in any blood vessel.
ICG is bound to plasma macro-molecules remaining intravascularly.
The NIR light source Unity Chamber of IC-FlowTMexcites the ICG through the tissues. Consequently ICG becomes fluorescent and starts to emit.
The fluorescence emitted by the ICG is filtered and detected by the CCD sensor of IC-FlowTM camera.
Its quick elimination from the bloodstream makes several measurements possible.
Fields of application:
Visceral Surgery:
- Perfusion of the anastomosis
- Degree of resection in the intestinal ischemia
---
Peripheral perfusion:
- Diabetic foot syndrome
- Amputation level
- Arteriosclerosis, legs smoker
- Decubitus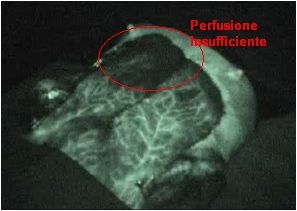 ---
Plastic surgery:
- Reconstructions
- Tissue flaps
- Tissues transfers
- Microvascular repairs
Lymphatic Surgery / Lymphedema:
- Real Time Visualization of Local Lymphatic Drainage
- Evaluation of the sites of possible lymphatic-venous bypasses in lymphatic microsurgery

---
Oncology:
- Detection of sentinel lyph node

---
---
---
Producer Diagnostic Green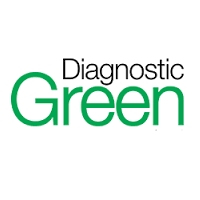 ---
To download the data sheet, you need to access the restricted area:
---